Vehicle Registration Renewal Notices Go Paperless
The California Department of Motor Vehicles (DMV) now offers electronic vehicle registration renewal notices to better serve vehicle owners and to reduce paper dependency. Vehicle owners with registrations expiring in May 2022 and after may now opt to receive renewal notices by email instead of a paper renewal notice by traditional mail. To opt in, vehicle owners must sign in or create an online account at www.dmv.ca.gov, and then update their paperless notice preferences.
Electronic vehicle registration renewal notices include an attachment providing the same barcode found on paper renewal notices. When entering vehicle information into a BAR-OIS or BAR-97 EIS analyzer, licensed Smog Check stations and inspectors may continue to scan the barcode. This convenient method helps eliminate data entry errors and is easily done by scanning the barcode directly from the notice on the consumer's phone or other electronic device or from a printed copy of the electronic notice. Alternatively, stations may scan the Vehicle Identification Number (VIN) directly from the vehicle or manually enter the VIN and license plate into the appropriate analyzer.
It is critical that the VIN and license plate are entered correctly into the analyzer. The Bureau of Automotive Repair strongly encourages stations and inspectors to carefully review and update their business processes to accommodate electronic notices, ensuring inspection results match the inspected vehicle.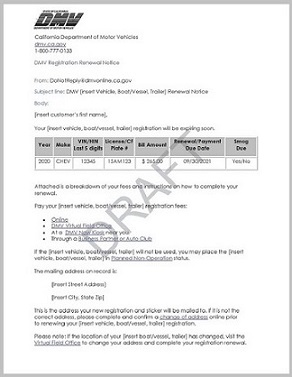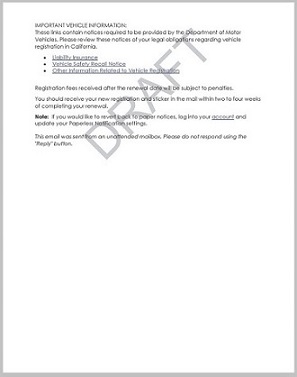 Picture: Sample electronic renewal notice with attachment