Repair Assistance Regulation Changes
On January 17, 2019, the Bureau of Automotive Repair (BAR) conducted a workshop on proposed amendments to Smog Check repair assistance regulations. The proposed amendments are intended to increase program participation by providing higher repair contributions based on vehicle model year, reducing pre-repair expenditures for income-eligible motorists, and removing unnecessary eligibility restrictions pertaining to vehicle registration. The following chart depicts the decline in program participation in recent years.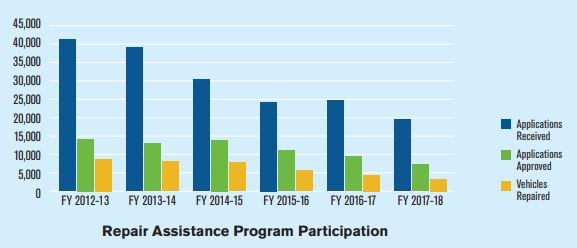 The regulatory workshop presentation and proposed regulation text are available on BAR's website. The regulation package is under review with the Department of Consumer Affairs and, upon approval, will then be filed with the Office of Administrative Law, which will begin a 45-day public comment period. To receive notifications about BAR regulatory actions, join BAR's email list and/or mailing list.