Assistance to Businesses Impacted by COVID-19
Small businesses are the backbone of California's economy. As businesses across the state face challenges brought on by the COVID-19 pandemic, California and the federal government are providing broad assistance to impacted businesses. Following are some of the key programs available:
Grants and Loans
The California Small Business COVID-19 Relief Grant Program provides micro grants up to $25,000 to eligible small businesses impacted by COVID-19 and the related health and safety restrictions imposed. To learn more about the program and application requirements, visit www.CAReliefGrant.com.
The Paycheck Protection Program (PPP) provides forgivable loans to help fund payroll costs, including benefits. PPP may also be used to pay for worker protection costs related to COVID-19 and uninsured property damage costs caused by looting or vandalism during 2020. To learn more about the Paycheck Protection Program, visit the U.S. Small Business Administration (SBA) website.
The Small Business Disaster Relief Loan Guarantee Program provides loans to underserved small businesses with 1-750 employees. Visit www.IBank.ca.gov for more information.
Tax Relief
The California Department of Tax and Fee Administration is providing an automatic three-month extension for individuals and businesses to file and pay their taxes and fees originally due between December 15, 2020, and April 30, 2021. This extension is generally granted to individuals and businesses with less than $1 million in taxes and fees. For more information, visit www.cdtfa.ca.gov.
Additional Resources
For a comprehensive list of current programs and resources available to small businesses, visit www.covid19.ca.gov/business-and-employers.
Understanding California's Brake Pad Law
On September 27, 2010, Governor Schwarzenegger signed Senate Bill (SB) 346 (Kehoe, Chapter 307, Statutes of 2010), known as the California Motor Vehicle Brake Friction Material Law. This law prohibits the sale of brake pads sold in California containing more than trace amounts of copper, certain heavy metals, and asbestos. The purpose of this law is to reduce the amount of copper and other toxic substances released from brakes from entering California's streams, rivers, and marine environment.
Beginning January 1, 2021, SB 346 prohibits the sale of motor vehicle brake friction materials containing more than 5% copper by weight. This requirement is the second of three legislative milestones that will ultimately reduce copper in brake pads to less than 0.5% by 2025.
The law requires brake friction material manufacturers to register their products with a testing certification agency and include a "mark of proof" on their brake pads certifying their products comply with regulations set by the Department of Toxic Substances Control (DTSC). Manufacturers may also include a certification logo on their packaging, indicating a product's compliance level.
The mark of proof includes the manufacturer ID, formulation ID, and environmental compliance markings. The environmental compliance marking is comprised of a letter ("A," "B," or "N") and the manufacture date is the last two digits (e.g., 16 refers to 2016). The environmental compliance marking will always be the last three characters printed or stamped on the brake pad. As shown in the image below, the mark of proof is typically a single line of text and is stamped or printed on the back plate or lining of the product. Refer to the State of Washington Department of Ecology fact sheet for illustrations of acceptable marking locations.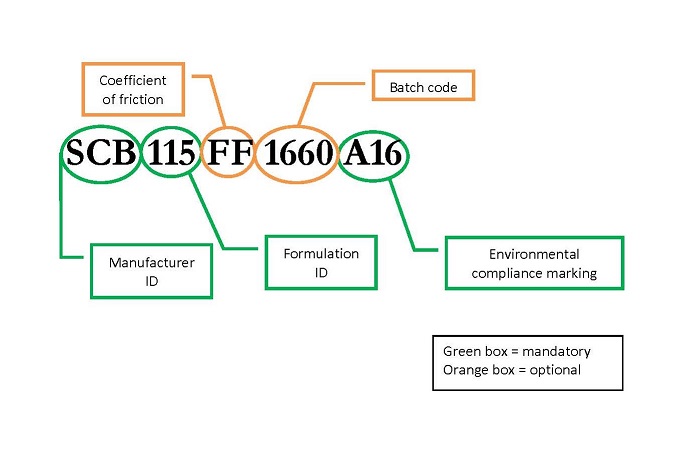 Environmental compliance marking levels, certification packaging logos/marks, and a description of the "A," "B," and "N" environmental compliance levels, are provided in the figure below.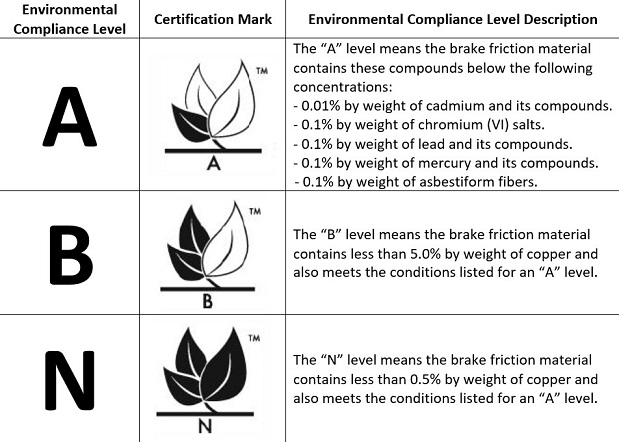 The following table details allowable brake pad markings based on the vehicle manufacture date: (The "X" means it is an allowable mark, and the "--" means it is not an allowed mark.)
Environmental Compliance Level
Vehicles manufactured
before January 1, 2014
Vehicles manufactured
between January 1, 2014 and December 31, 2020
Vehicles manufactured
on or after January 1, 2021
No mark
X
--
--
A
X
X
--
B
X
X
X
N
X
X
X
If a vehicle was manufactured before January 1, 2021, automotive repair dealers (ARD) can install brake pads that are certified as Level A, Level B, or Level N. For example, ARDs may install Level A brake pads on a vehicle that was manufactured in 2019. However, a new vehicle sold in California on or after January 1, 2021 must be equipped with Level B brake pads and replacement brake pads for the vehicle must be certified as Level B. Level N brake pads can also be installed on vehicles manufactured on or after January 1, 2021 since the copper concentration in Level N brakes is certified as less than 0.5%. However, Level A brake pads cannot be installed on these vehicles because the copper concentration is greater than 5%.
Here are some frequently asked questions to help ARDs comply with Brake Pad Law requirements.
When must an ARD replace a customer's non-compliant brake pads?
An ARD must replace a customer's non-compliant brake pads with compliant brake pads when the ARD is replacing a vehicle's brake pads. However, when performing other repairs and services, ARDs are not required to replace brake pads before the end of their useful life simply to comply with the law.
Must compliant brake pads be identified on the invoice?
No, ARDs are not required to identify on the invoice that the brake pads being installed are compliant. For information on invoice and other documentation requirements, refer to BAR's Write It Right guide.
Can ARDs sell and install non-compliant brake pads purchased prior to implementation of the California Brake Pad Law?
The law has one sell-off period that applies to an ARD's existing inventory of brake pads manufactured prior to January 1, 2014. These brake pads may only be installed on vehicles manufactured prior to January 1, 2014 solely for the purposes of depletion of inventories. The sell-off period ends on December 31, 2023.
Where can I learn more about the California Brake Pad Law?
View DTSC's presentation on motor vehicle brake friction materials provided at the January 2021 BAR Advisory Group meeting. For additional information, resources, and answers to frequently asked questions, visit www.dtsc.ca.gov. To receive updates and information regarding the California Brake Pad Law, join the DTSC email list.
Japanese Delegation Meets with BAR to Discuss Smog Check Program
On January 21, 2021, the Bureau of Automotive Repair's (BAR) Engineering and Research Branch participated in a teleconference with the Japan Automobile Standards Internationalization Center's Inspection and Maintenance System Research Committee. The group discussed and shared information on California's Smog Check Program and Japan's Periodical Technical Inspection (e-PTI) program.
Japan is in the early stages of rolling out a combined Smog Check and Vehicle Safety Inspection program. With the increased use of advanced technologies in vehicles, there is an interest in making safety inspections a component of the periodic vehicle inspection.
The meeting provided an opportunity to collaborate on the advancement of international vehicle emissions inspection programs and to discuss evolving automotive safety technology and the need to protect motorists through periodic safety inspections.
Visit Our New Website
Earlier this year, the Bureau of Automotive Repair (BAR) released a new and improved website at www.bar.ca.gov. The new site features an enhanced design focused on improving the user experience by simplifying and highlighting the most popular BAR online services and information. Other subtle yet important design changes are aligned to website best practices and are being implemented to improve website performance and comply with the Americans with Disabilities Act.
Some of the new features on the site include:
An enhanced mobile-friendly design – Search information on the go from the convenience of a mobile device.
New homepage features – Find important updates and short-cuts to commonly used pages in the Latest News and Quick Links sections.
An all-new Online Services tab – Access BAR services such as Online License Renewal and the STAR Report Card in one convenient location.
A Meeting and Events page – View information on upcoming BAR meetings and add events to your personal calendar.
An Enforcement Actions search page – Use our comprehensive data center designed to improve transparency and improve access to enforcement action information.
A new CAP repair filter on the Auto Shop Locator – Select the new CAP repair filter to find easily locate CAP stations.
BAR will continue to assess its online content and add new features and enhancements in an effort to innovate and improve the user experience for our stakeholders. To receive future announcements and updates, subscribe to our email list.
Overview on BAR's Investigation and Discipline Process
In support of its consumer protection mandate, the Bureau of Automotive Repair (BAR) mediates complaints and investigates violations of the Automotive Repair Act (Act) and related laws and regulations. Depending on the nature and seriousness of confirmed violations, BAR may utilize educational tools to address noncompliance, or refer the matter for formal disciplinary action. Through investigations and the formal discipline process, BAR's enforcement operations aim to support business activities by ensuring a fair and competitive automotive repair and Smog Check marketplace for all stakeholders.
Investigation Process
BAR employs a variety of investigative methods and sources to monitor licensee compliance and, when necessary, initiate investigations. Those methods and sources include:
Complaint trends revealing a pattern of violations
Auto Body Inspection Program results
Anonymous tips
Smog Check inspection data
Other available resources
Investigations are conducted by BAR representatives responsible for gathering evidence through various techniques such as undercover vehicle operations, video surveillance, advertising review, and a review of the licensee's records. After a review of all evidence, the investigation may result in one of the following enforcement outcomes:
Proactive conference – used when BAR's concerns are minimal and the licensee can likely address the concerns through minor changes to current business practices.
Office conference – used when BAR has more serious concerns regarding the licensee's business practices and more substantive changes must be made.
Issuance of a citation – Health and Safety Code violations (i.e., violations related to the Smog Check Program) and unlicensed activity may result in a citation that may contain an order of abatement and/or fine.
Formal discipline – egregious violations, such as fraud or an action that may threaten the safety of consumers, are referred to the Attorney General for the filing of an accusation to revoke the registration/license.
Discipline Process
The formal administrative discipline process is governed by the Administrative Procedures Act (California Government Code beginning with section 11500). BAR initiates the process by referring its investigation to the Attorney General. If the Deputy Attorney General (DAG) finds the evidence to be sufficient, an accusation, which is the legal charging document detailing the findings of BAR's investigation, is prepared, filed (i.e., signed by the BAR chief), and served upon the licensee.
An important document included with service of the accusation is a notice of defense (NOD). The licensee responding to the accusation (respondent) has 15 days to submit the NOD to request a hearing before an Administrative Law Judge (ALJ) or request a settlement. If the respondent either fails to file a NOD or, having filed a NOD, fails to appear at the hearing, BAR will issue a default decision. If a respondent chooses to settle, a stipulated settlement will be determined through mutual agreement. If the case goes before an ALJ, the ALJ will hear evidence from all parties and then issue a proposed decision, including proposed discipline. The accusation resolution (i.e., default decision, stipulated settlement, or proposed decision) is then submitted to the director of the Department of Consumer Affairs for review and a final discipline decision.
BAR's Guidelines for Disciplinary Orders and Terms of Probation (Disciplinary Guidelines) are used by ALJs, DAGs, and other interested parties throughout the formal discipline process to promote consistency in disciplinary orders for similar offenses on a statewide basis. The Disciplinary Guidelines establish the following possible disciplinary outcomes:
Revocation – the registration/license is revoked. The respondent can no longer perform automotive repair or activities applicable to the specific license (i.e., brake, lamp, and Smog Check services)
Revocation (stayed with probation only) – the registration/license is revoked; however, the revocation is stayed. The respondent is placed on probation for a set period and is subject to terms and conditions of probation as specified in the disciplinary order.
Revocation (stayed with probation and suspension) – the registration/license is revoked; however, the revocation is stayed. The respondent is placed on probation and the registration/license is suspended for a period of time as specified in the disciplinary order.
On rare occasions, an accusation may be dismissed or withdrawn.
The formal discipline process, while complex, ensures each case is evaluated and negotiated based solely on the facts and circumstances of the individual case and that discipline outcome is in alignment with the violation. Probation orders are offered for the respondent to demonstrate compliance with the Act and related laws and regulations. A suspension order, which is limited to no less than three days and no more than 30 days, provides the respondent an opportunity to evaluate and reset business practices that contributed to the violation(s).
To learn more about BAR's enforcement operations, use the Enforcement Actions search tool, view BAR's quarterly enforcement statistics reports available on the BAR Advisory Group page, and visit our Enforcement page at www.bar.ca.gov.
Smog Check Security Enhancements in Development
The Bureau of Automotive Repair (BAR) is seeking approval of a regulatory proposal to add Smog Check inspection equipment security enhancements to the BAR-97 Emissions Inspection System (EIS) and the BAR On-Board Diagnostic Inspection System (BAR-OIS). The new requirements will prevent the unauthorized use of the Smog Check inspection equipment and will also identify the licensed Smog Check inspector performing the inspection.
Specifically, the regulatory proposal will:
Require use of a biometric login device and a web camera by licensed Smog Check inspectors when performing a Smog Check using the BAR-97 Emissions Inspection System (EIS) and BAR On-Board Diagnostic Inspection System (BAR-OIS).
Require that Smog Check stations allow BAR access whenever inspections are being performed, even if the inspections occur outside normal business hours.
Require that Smog Check inspectors allow BAR staff remote access to the inspection process, via the internet, when prompted by the BAR-OIS software.
In anticipation of adoption of these regulations, BAR is planning a voluntary enrollment period to allow stations the opportunity to install the biometric devices and enroll inspectors. In order to enroll inspectors in a manageable fashion and to lessen the economic impact of an inspector leaving the station to enroll, BAR will offer optional onsite enrollment during the early enrollment period in lieu of the inspector visiting a BAR field office. Enrollment dates and biometric device information, including requirements and available vendors, will be announced in advance to ensure stations secure the necessary equipment to complete the enrollment process.
BAR will continue to update licensees on the status of the regulatory proposal and will provide notice to stations of upcoming implementation and compliance dates. For up-to-date information, review ET Blasts and the Regulatory Actions page at www.bar.ca.gov.
Illegal Software Modifications Detected During Smog Check Inspections
The California Air Resources Board (CARB) certifies new vehicles to ensure that they are compliant with emission standards established by law. CARB also certifies aftermarket parts and systems that can legally be installed without degrading the emissions compliance of the vehicle. Occasionally consumers install software that has not been approved by CARB. The unapproved software can degrade the emissions performance of the vehicle as well as the efficacy of emissions-control components originally installed on the vehicle.
While such modifications have never been legal, certain modifications, especially those related to the software programming of a vehicle's computer(s) have been difficult, if not impossible, to detect during a Smog Check inspection. The Bureau of Automotive Repair will soon update the BAR On-Board Diagnostic Inspection System (BAR-OIS) to identify vehicles with illegally modified software, starting in July 2021. These non-compliant vehicles will fail a Smog Check inspection in accordance with California Code of Regulations, title 16, section 3340.42.2(c)(8). Vehicles that fail a Smog Check inspection due to modified software must have their software returned to a legal configuration in order to obtain a Smog Check certificate. Once legal software is restored, vehicle owners may return to the station of their choosing for reinspection and certification. Note that vehicles initially directed to a STAR or Referee station must return to that station to complete the inspection process.
Automated License Plate Reader Added to Roadside Inspection Equipment
The Bureau of Automotive Repair (BAR) collects Smog Check Program audit data by performing Smog Check inspections on California roadways. Roadside data collection is required by law and is critical in evaluating the effectiveness of the California Smog Check Program. When the COVID-19 pandemic shut down traditional roadside data collection, BAR researched alternative data sources. BAR identified use of an Automated License Plate Reader (ALPR) as an appropriate option and has updated its Roadside Inspection Program data collection equipment to include an ALPR.
An ALPR system consists of a mobile or fixed camera that photographs a vehicle's license plate and pairs the image with optical character recognition software to convert the image into the alpha-numeric characters of the license plate. Typical ALPR uses include electronic toll collection (e.g., FasTrak toll roads and high-occupancy vehicle lanes), enforcement of traffic laws and traffic control, and automated emissions testing.
ALPR data is merged with Department of Motor Vehicle (DMV) records to identify a vehicle's make, model, and model year. The data can also be used to identify a vehicle's Smog Check history. BAR will use the ALPR data to support the evaluation of the effectiveness of the Smog Check Program and complete the annual Smog Check Performance Report. Once roadside emissions data collection resumes, the data will also improve the process used to randomly select vehicles for participation in the Roadside Inspection Program.
For more information, read BAR's Automated License Plate Reader Privacy and Usage Policy at www.bar.ca.gov.
Positive Response to Consumer Assistance Program Updates
The Bureau of Automotive Repair (BAR) adopted emergency regulations on August 31, 2020, which have increased the state's contribution toward emissions-related repairs under BAR's Consumer Assistance Program (CAP) from a maximum of $500 to $1,200 for eligible consumers, modified the consumer copay structure, and relaxed some vehicle registration-related eligibility requirements. The regulations have allowed more consumers to obtain emissions-related repairs and have increased the opportunity for STAR test-and-repair stations to make more durable repairs.
Earlier this year, Repair Assistance Technical Unit Supervisor Randy Powers reached out to station owners and consumers to ask them about their experience with the program changes.
Armando Borges, owner of Smogs Plus Auto Repair in Inglewood, California, noted that the upfront costs for CAP applicants have decreased substantially under the new regulations. Oscar Sola, a California motorist whose income was reduced due to the COVID-19 pandemic, was worried when his vehicle failed a Smog Check inspection. But after a Smogs Plus representative informed him of CAP, he was relieved to learn that he only had to pay 20% of the diagnostic and repair costs. Ultimately, Sola paid less than $300 for a diagnosis of the problem and the replacement of a malfunctioning catalytic converter. "This was a great experience; it helped me a lot, especially since I depend on my car for work," Sola said.
William Clark, owner of La Mesa Fuels and Auto Repair in La Mesa, California, told Powers that the additional state contributions have allowed him to make Smog Check repairs that previously would have been too costly for CAP participants. One of Clark's customers, Jason Russo, applied for assistance after his Chevrolet Volt failed a Smog Check inspection. Although diagnostic and repair costs exceeded $1,400, Russo's out of pocket expenses were less than $300. "The assistance helped immensely. Had it not been for CAP, I would have had to delay getting my vehicle repaired," Russo said.
Other satisfied consumers shared with Powers that the low upfront diagnostic fees and the increase in assistance motivated them to apply for CAP. Clark and Borges said that their customers have been happy with the program, and both station owners are planning to continue encouraging qualified consumers to apply.
For information and resources to assist stations performing CAP repairs, visit the CAP Repairs page at www.bar.ca.gov.
Cars for Schools Program Update
The Bureau of Automotive Repair's (BAR) Cars for Schools (CFS) program repurposes vehicles retired through the Consumer Assistance Program to provide students in automotive technical training classes with hands-on learning opportunities. The program offers vehicles to public high schools, community colleges, and regional occupational programs throughout the state.
In January 2020, the first retired vehicle was transferred to the College of the Sequoias. Twelve additional schools received vehicles in February 2020 before the COVID-19 pandemic forced automotive training programs to halt in-person training. With in-person classes resuming, automotive technical training instructors are once again requesting CFS vehicles.
To assess the success of the program, Vehicle Retirement Technical Unit Supervisor Dan Breitbach reached out to automotive instructors who have participated in the program. Chris Lacey, an automotive instructor at Livingston High School, located in Livingston, California, obtained a 2004 Chevrolet Aveo, a 2007 Nissan Maxima, and a 1999 Cadillac Escalade in February 2020 after learning about the program through his local community college. Lacey affirmed that the vehicles are ideal for his training program and he is looking forward to acquiring more vehicles once Livingston High School reopens.
College of the Desert, located in Palm Desert, California, requested older vehicles and received a 1981 Dodge D150 pickup and a 1981 Dodge B150 van for its Smog Check technician training class. Automotive instructor Dorothy Anderson explained, "These older vehicles can be hard to obtain, but they are extremely useful in training students on how to diagnose older emissions control systems." Anderson said she is pleased with the program and plans on requesting more vehicles from CFS.
To learn more, visit the Cars for Schools Program page or contact the program coordinator at carsforschools@dca.ca.gov.
Scholarship Opportunity for Automotive High School Teachers
High school automotive teachers are the often-forgotten individuals educating and training students in preparation for automotive careers. They may use personal funds to keep their programs going or their need for certification to keep their instructor and program status. To assist these teachers in achieving success, the California Automotive Wholesalers Association (CAWA) has established the Motorcar Parts of America – Selwyn Joffe Scholarship Award Program.
In addition to financial assistance, CAWA represents manufacturers, distributors, and retailers that can potentially supply scholarship recipients with products, tools, and other resources for classroom use, ensuring that they are providing relevant, up-to-date and quality education and training for their students. CAWA members conduct industry training, which may also be available to recipients for furthering their own knowledge and development.
Teachers interested in applying for the Motorcar Parts of America – Selwyn Joffe Scholarship Award Program should complete the online application by May 31, 2021 at www.cawa.org/Scholarships.
Recruitment for BAR Licensure Examination Development Consultants
The development of BAR licensure examinations depends greatly on expert consultants, referred to as subject matter experts (SMEs). Their participation is essential to the development of licensure exams for Smog Check inspector, repair technician, and brake/lamp adjuster licenses, and ensures that the exams accurately assess whether candidates possess the required knowledge, skills, and abilities necessary to perform tasks on the job safely and competently.
SMEs participate in monthly workshops that are typically conducted on two consecutive eight-hour days in Sacramento. SMEs receive a paid honorarium, in addition to travel reimbursement for their services.
To learn more about becoming a SME or to request an application, please email bar.hcsu@dca.ca.gov. For information on licensure training requirements, visit our Training page.
Legislation and Regulations Update
Legislation
Several legislative proposals that could affect the automotive repair industry have been introduced this year, including Assembly Bill (AB) 294 (Santiago) and AB 471 (Low). Given the nature of the legislative process, the Bureau of Automotive Repair (BAR) recommends contacting your trade association or visiting www.leginfo.legislature.ca.gov for further information regarding these and other legislative proposals.
Regulations
Rehabilitation and Substantial Relationship Criteria
As required by Assembly Bill 2138 (Chiu, Chapter 995, Statutes of 2018), BAR adopted regulations reducing barriers to licensure for individuals with prior criminal convictions, which may reduce recidivism and provide economic opportunity to California's residents. In addition, the regulations improve clarity, transparency, and consistency for applicants, licensees, and registrants in BAR's use of their criminal histories. Further, by reducing barriers to licensure, BAR anticipates benefits to consumers who may have greater access to licensed professionals.
The regulatory proposal was approved by the Office of Administrative Law and became effective on February 18, 2021.
Regulatory documents and additional information are available on the Regulatory Actions page at www.bar.ca.gov.
BAR by the Numbers
Licensing Summary
(as of February 2021)
| License1 Type | Number of Registrants/Licenses |
| --- | --- |
| Automotive Repair Dealer2 | 35,129 |
| Smog Check Station | 7,020 |
| Brake Station | 888 |
| Lamp Station | 867 |
| Smog Check Inspector | 13,698 |
| Smog Check Repair Technician | 6,869 |
| Brake Adjuster | 1,114 |
| Lamp Adjuster | 960 |
| STAR Station3 | 3,651 |
1 California Business and Professions Code section 23 defines "license" as a license, certificate, registration, or other means to engage in a business or profession regulated by the code.
2 An automotive repair dealer holds a registration to conduct business in California.
3 A licensed Smog Check station holds a STAR certification if it meets certain performance criteria established in BAR regulations.
Top Business Types
(as of February 2021)
Business types are provided by automotive repair dealers upon licensure or renewal. Licensees seeking to update their business type information can complete a Name/Address/Corporate Officers or Directors form.
| Primary Business Types | Secondary Business Types |
| --- | --- |
| 1. General Repair | 1. General Repair |
| 2. Auto Body/Paint Shop | 2. Smog Check Station |
| 3. Smog Check Station | 3. Automotive Diagnostic Center |
| 4. Tire Shop | 4.Tune-Up/Oil and Lube |
| 5. New/Used Car Dealer | 5. Brake/Front End Alignment Shop |
| 6. Mobile Automotive Repair | 6. Tire Shop |
| 7. Transmission Repair Shop | 7. Service Station |
| 8. Service Station | 8. Engine Rebuilding/Repair |
| 9. Tune-Up/Oil and Lube | 9. Mobile Automotive Repair |
| 10. Used Car Dealer | 10. Auto Body/Paint Shop |
Complaint Trends
(July - December 2020)
Trend
Total Received
%
Engine Repair and Performance
Repair, diagnosis, cooling systems, fuel systems, etc.
1,993
33%
General Repair and Maintenance
Brakes, suspension, steering, air conditioning/heat, etc.
1,100
18%
Auto Body
Auto body repair, auto glass, etc.
796
13%
Other
Motorcycle repair, improper lien sales, etc.
627
10%
Transmission
Automatic transmission, manual transmission/clutch, etc.
454
8%
Smog
Smog repair, test procedures, etc.
361
6%
Used Car Transactions
336
6%
Vehicle Warranty
177
3%
Unlicensed Activity
165
3%
Disciplinary Actions (July - December 2020)
Public documents relating to the disciplinary actions are available on the License Search page at www.dca.ca.gov.
License Types
Business Licenses1
ARD–Automotive Repair Dealer2
TC–Smog Check Test-Only Station
RC–Smog Check Test-and-Repair Station
RO–Smog Check Repair-Only Station
BS–Brake Station
LS–Lamp Station
Individual Licenses
EO–Smog Check Inspector
EI–Smog Check Repair Technician
EA–Advanced Emissions Technician
EB–Basic Area Emissions Technician
BA–Brake Adjuster
LA–Lamp Adjuster
1 California Business and Professions Code section 23 defines a "license" as a license, certificate, registration or other means to engage in a business or profession regulated by the code.
2 An automotive repair dealer holds a registration to conduct business in California.
| License Number | Business or Technician Name | Owner | City | Effective Date |
| --- | --- | --- | --- | --- |
| EI 147006 | JOSE LUIS ROSAS | N/A | LANCASTER | 7/3/2020 |
| EO 147006 | JOSE LUIS ROSAS | N/A | LANCASTER | 7/3/2020 |
| EO 636332 | JAMES L THOMAS | N/A | APPLE VALLEY | 7/7/2020 |
| EI DENIED | JAMES THOMAS | N/A | APPLE VALLEY | 7/7/2020 |
| ARD 284213 | DAKINE SMOG SHOP | BRIANNA MARIE ADKINS | SOUTH GATE | 7/14/2020 |
| TC 284213 | DAKINE SMOG SHOP | BRIANNA MARIE ADKINS | SOUTH GATE | 7/14/2020 |
| EO 635688 | AARON MICHAEL GONZALEZ | N/A | ARCADIA | 7/14/2020 |
| ARD 264421 | EARTH STATION | MIKE PAUL ROMANI | CITRUS HEIGHTS | 7/14/2020 |
| EI 142238 | MIKE PAUL ROMANI | N/A | CITRUS HEIGHTS | 7/14/2020 |
| EO 142238 | MIKE PAUL ROMANI | N/A | CITRUS HEIGHTS | 7/14/2020 |
| RC 264421 | EARTH STATION | MIKE PAUL ROMANI | CITRUS HEIGHTS | 7/14/2020 |
| EO 639903 | TONIA RENELL ROA | N/A | CARMICHAEL | 7/14/2020 |
| EI 309111 | BRIAN D DUPRAS | N/A | CARMICHAEL | 7/14/2020 |
| EO 309111 | BRIAN D DUPRAS | N/A | CARMICHAEL | 7/14/2020 |
| ARD 267717 | P AND A AUTO REPAIR | JUAN EDGAR RAZO AND GUADALUPE ROBLES, PARTNERS | SAN BERNARDINO | 7/14/2020 |
| ARD 252288 | DISCOUNT SMOG, INC. | DISCOUNT SMOG, INC. | SOUTH GATE | 7/14/2020 |
| BA 148570 | JORGE BAEZ, JR. | N/A | WHITTIER | 7/14/2020 |
| BS 252288 | DISCOUNT SMOG, INC. | DISCOUNT SMOG, INC. | SOUTH GATE | 7/14/2020 |
| EI 148570 | JORGE BAEZ, JR. | N/A | WHITTIER | 7/14/2020 |
| EO 148570 | JORGE BAEZ, JR. | N/A | WHITTIER | 7/14/2020 |
| LA 148570 | JORGE BAEZ, JR. | N/A | WHITTIER | 7/14/2020 |
| LS 252288 | DISCOUNT SMOG, INC. | DISCOUNT SMOG, INC. | SOUTH GATE | 7/14/2020 |
| RC 252288 | DISCOUNT SMOG, INC. | DISCOUNT SMOG, INC. | SOUTH GATE | 7/14/2020 |
| ARD 258301 | ROYAL AUTO, INC. | ROYAL AUTO, INC. | LOS ANGELES | 7/14/2020 |
| ARD 153929 | ARCEOS SMOG AUTOMOTIVE | JACOB P ARCEO AND DAVID G ARCEO, PARTNERS | OXNARD | 7/14/2020 |
| BA 314482 | JACOB PONCE ARCEO | N/A | OXNARD | 7/14/2020 |
| BS 153929 | ARCEOS SMOG AUTOMOTIVE | JACOB P ARCEO AND DAVID G ARCEO, PARTNERS | OXNARD | 7/14/2020 |
| EI 314482 | JACOB PONCE ARCEO | N/A | OXNARD | 7/14/2020 |
| EO 314482 | JACOB PONCE ARCEO | N/A | OXNARD | 7/14/2020 |
| LA 314482 | JACOB PONCE ARCEO | N/A | OXNARD | 7/14/2020 |
| LS 153929 | ARCEOS SMOG AUTOMOTIVE | JACOB P ARCEO AND DAVID G ARCEO, PARTNERS | OXNARD | 7/14/2020 |
| RC 153929 | ARCEOS SMOG AUTOMOTIVE | JACOB P ARCEO AND DAVID G ARCEO, PARTNERS | OXNARD | 7/14/2020 |
| ARD 280235 | MORALES ENGINE REBUILDING & MACHINE SHOP | SANDRA JAQUELINE POLIO | LOS ANGELES | 7/14/2020 |
| ARD 212613 | DC AUTOCRAFT | BEAR INDUSTRIES | BURBANK | 7/14/2020 |
| EI 155207 | DEREK IAN SMITH | N/A | ARROYO GRANDE | 7/15/2020 |
| EO 155207 | DEREK IAN SMITH | N/A | ARROYO GRANDE | 7/15/2020 |
| EO 635760 | MANUEL OSVALDO OSORIO ORTIZ | N/A | WILMINGTON | 7/16/2020 |
| ARD 283743 | RODS AUTOMOTIVE | MIKHA AUTOMOTIVE, INC. | EL CAJON | 7/21/2020 |
| RC 283743 | RODS AUTOMOTIVE | MIKHA AUTOMOTIVE, INC. | EL CAJON | 7/21/2020 |
| EO 154192 | JUSTIN S DOWLER | N/A | CITRUS HEIGHTS | 7/21/2020 |
| ARD 285983 | SIERRA MADRE TEST ONLY | TERESA GOMEZ | BLOOMINGTON | 7/22/2020 |
| TC 285983 | SIERRA MADRE TEST ONLY | TERESA GOMEZ | BLOOMINGTON | 7/22/2020 |
| ARD 269323 | MASTER'S AUTO SALON | MARCOS ANTONIO LEGARRETA II | INDIO | 7/22/2020 |
| EO 640378 | REYES MORENO | N/A | SAN BERNARDINO | 7/22/2020 |
| ARD 291680 | BD TEST ONLY | BRANDON ISIDORO DOMAEL | INGLEWOOD | 7/24/2020 |
| EO 641673 | BRANDON I DOMAEL | N/A | LAWNDALE | 7/24/2020 |
| TC 291680 | BD TEST ONLY | BRANDON ISIDORO DOMAEL | INGLEWOOD | 7/24/2020 |
| ARD 281879 | JB AUTO BODY | RAQUEL JIMENEZ | BAKERSFIELD | 7/31/2020 |
| EO 636880 | MICHAEL ANTHONY SERRATO | N/A | ANTIOCH | 8/5/2020 |
| EI 639260 | AMANUEL YEMANE NAIZGHI | N/A | SANTA ROSA | 8/5/2020 |
| EO 639260 | AMANUEL YEMANE NAIZGHI | N/A | SANTA ROSA | 8/5/2020 |
| BA 153684 | SALVADOR BASTIDAS VEGA | N/A | PICO RIVERA | 8/6/2020 |
| EI 153684 | SALVADOR BASTIDAS VEGA | N/A | PICO RIVERA | 8/6/2020 |
| EO 153684 | SALVADOR BASTIDAS VEGA | N/A | PICO RIVERA | 8/6/2020 |
| LA 153684 | SALVADOR BASTIDAS VEGA | N/A | PICO RIVERA | 8/6/2020 |
| EO 635711 | KENNETH THAI | N/A | SAN JOSE | 8/7/2020 |
| EO 639481 | WILSON MENDOZA | N/A | SANTA ROSA | 8/7/2020 |
| ARD 282367 | BENNYS SMOG | BENNYS SMOG LLC | RIALTO | 8/12/2020 |
| EI 638920 | BENNY MARTINEZ | N/A | BLOOMINGTON | 8/12/2020 |
| EO 638920 | BENNY MARTINEZ | N/A | BLOOMINGTON | 8/12/2020 |
| RC 282367 | BENNYS SMOG | BENNYS SMOG LLC | RIALTO | 8/12/2020 |
| ARD 292208 | UPLAND ENGINETEK1 | LILY THI NGUYEN | UPLAND | 8/12/2020 |
| EO 641641 | ANGEL FRANCISCO CASTRO | N/A | ONTARIO | 8/12/2020 |
| EI 633588 | ADEM KILIC | N/A | BERKELEY | 8/13/2020 |
| EO 633588 | ADEM KILIC | N/A | RICHMOND | 8/13/2020 |
| EO 636862 | ANTHONY MICHAEL VASQUEZ | N/A | OAKLAND | 8/13/2020 |
| ARD 270822 | LUCKY AUTO REPAIR & TIRE | GURPAL KAUR SHERGILL AND KULWINDER SINGH SHERGILL, PARTNERS | STOCKTON | 8/13/2020 |
| EO 633764 | EREN KARADELI | N/A | BERKELEY | 8/14/2020 |
| EO 633764 | EREN KARADELI | N/A | BERKELEY | 8/14/2020 |
| EI 153981 | JAGTAR SINGH KAHLON | N/A | FAIRFIELD | 8/17/2020 |
| EO 153981 | JAGTAR SINGH KAHLON | N/A | FAIRFIELD | 8/17/2020 |
| EO 633764 | EREN KARADELI | N/A | BERKELEY | 8/17/2020 |
| ARD 223785 | SMOG MASTERS | RAMONA ACEVEDO AND BLANCA ACEVEDO, PARTNERS | PORTEVILLE | 8/17/2020 |
| RC 223785 | SMOG MASTERS | RAMONA ACEVEDO AND BLANCA ACEVEDO, PARTNERS | PORTEVILLE | 8/17/2020 |
| ARD 264688 | QUALITY SMOG & REPAIR CENTER | Z&M INVESTMENT INC | CONCORD | 8/18/2020 |
| BS 264688 | QUALITY SMOG & REPAIR CENTER | Z&M INVESTMENT INC | CONCORD | 8/18/2020 |
| EO 639188 | ABDUL WALI KHURRAMI | N/A | CONCORD | 8/18/2020 |
| LS 264688 | QUALITY SMOG & REPAIR CENTER | Z&M INVESTMENT INC | CONCORD | 8/18/2020 |
| RC 264688 | QUALITY SMOG & REPAIR CENTER | Z&M INVESTMENT INC | CONCORD | 8/18/2020 |
| ARD 278017 | SMOG STOP & REPAIR | JON KAYAJIAN | SUN VALLEY | 8/18/2020 |
| EI 636082 | JON KAYAJIAN | N/A | SUN VALLEY | 8/18/2020 |
| EO 636082 | JON KAYAJIAN | N/A | SUN VALLEY | 8/18/2020 |
| RC 278017 | SMOG STOP & REPAIR | JON KAYAJIAN | SUN VALLEY | 8/18/2020 |
| EI 139809 | SHAH ASHRAF ARAKOZIE | N/A | CONCORD | 8/18/2020 |
| EO 139809 | SHAH ASHRAF ARAKOZIE | N/A | CONCORD | 8/18/2020 |
| LA 139809 | SHAH ASHRAF ARAKOZIE | N/A | CONCORD | 8/18/2020 |
| BA 139809 | SHAH ASHRAF ARAKOZIE | N/A | CONCORD | 8/18/2020 |
| EI 32614 | DENNIS LONG WONG | N/A | ARCADIA | 8/18/2020 |
| EO 32614 | DENNIS LONG WONG | N/A | ARCADIA | 8/18/2020 |
| ARD 289624 | JOSH SMOG CENTER | JOSUE ALEXI MARROQUIN | NORTH HOLLYWOOD | 8/18/2020 |
| TC 289624 | JOSH SMOG CENTER | JOSUE ALEXI MARROQUIN | NORTH HOLLYWOOD | 8/18/2020 |
| EO 635771 | MIGUEL ALONSO REGALADO-REYES | N/A | NORTH HOLLYWOOD | 8/18/2020 |
| BA 136692 | DONALD JOSEPH COOK | N/A | MIDDLETOWN | 8/19/2020 |
| EI 136692 | DONALD JOSEPH COOK | N/A | MIDDLETOWN | 8/19/2020 |
| EO 136692 | DONALD JOSEPH COOK | N/A | MIDDLETOWN | 8/19/2020 |
| LA 136692 | DONALD JOSEPH COOK | N/A | MIDDLETOWN | 8/19/2020 |
| ARD 271146 | BELMONT 76 SERVICE, INC | BELMONT 76 SERVICE, INC. | BELMONT | 8/19/2020 |
| BS 271146 | BELMONT 76 SERVICE, INC | BELMONT 76 SERVICE, INC. | BELMONT | 8/19/2020 |
| EI 634595 | NAJIB MICHAEL BATSHON | N/A | REDWOOD CITY | 8/19/2020 |
| EO 634595 | NAJIB MICHAEL BATSHON | N/A | REDWOOD CITY | 8/19/2020 |
| LS 271146 | BELMONT 76 SERVICE, INC | BELMONT 76 SERVICE, INC. | BELMONT | 8/19/2020 |
| RC 271146 | BELMONT 76 SERVICE, INC | BELMONT 76 SERVICE, INC. | BELMONT | 8/19/2020 |
| BA 311353 | NADIM MICHAEL BATSHON | N/A | SAN CARLOS | 8/19/2020 |
| EI 311353 | NADIM MICHAEL BATSHON | N/A | SAN CARLOS | 8/19/2020 |
| EO 311353 | NADIM MICHAEL BATSHON | N/A | SAN CARLOS | 8/19/2020 |
| LA 311353 | NADIM MICHAEL BATSHON | N/A | SAN CARLOS | 8/19/2020 |
| ARD 114003 | ELECTRIC AUTO BROS | ROBERT BORJAS AND BEVERLY BORJAS, PARTNERS | MADERA | 8/19/2020 |
| ARD 260440 | DANIELS AUTOMOTIVE & REPAIR | ARMEN GHARAPETIAN | RESEDA | 8/24/2020 |
| BA 148027 | ARMEN GHARAPETIAN | N/A | CHATSWORTH | 8/24/2020 |
| BS 260440 | DANIELS AUTOMOTIVE & REPAIR | ARMEN GHARAPETIAN | RESEDA | 8/24/2020 |
| EI 148027 | ARMEN GHARAPETIAN | N/A | CHATSWORTH | 8/24/2020 |
| EO 148027 | ARMEN GHARAPETIAN | N/A | CHATSWORTH | 8/24/2020 |
| LA 148027 | ARMEN GHARAPETIAN | N/A | CHATSWORTH | 8/24/2020 |
| LS 260440 | DANIELS AUTOMOTIVE & REPAIR | ARMEN GHARAPETIAN | RESEDA | 8/24/2020 |
| RC 260440 | DANIELS AUTOMOTIVE & REPAIR | ARMEN GHARAPETIAN | RESEDA | 8/24/2020 |
| ARD 282807 | ROYAL AUTO SERVICE | WELLIAM HABEEB MATTE | EL CAJON | 8/25/2020 |
| EO 637842 | WELLIAM HABEEB MATTE | N/A | EL CAJON | 8/25/2020 |
| RC 282807 | ROYAL AUTO SERVICE | WELLIAM HABEEB MATTE | EL CAJON | 8/25/2020 |
| RC 205624 | SAN DIEGO TOP TUNE | BASSAM SHAKER RADWAN | LA MESA | 8/26/2020 |
| EO 640468 | JONATHAN RICHARD GILMAN | N/A | BLOOMINGTON | 8/26/2020 |
| ARD 284775 | SHERIF'S AUTO CARE INC | SHERIF'S AUTO CARE INC | WHITTIER | 8/28/2020 |
| BA 313786 | SHERIF R HANNA | N/A | WHITTIER | 8/28/2020 |
| BS 284775 | SHERIF'S AUTO CARE INC | SHERIF'S AUTO CARE INC | WHITTIER | 8/28/2020 |
| EI 313786 | SHERIF R HANNA | N/A | WHITTIER | 8/28/2020 |
| EO 313786 | SHERIF R HANNA | N/A | WHITTIER | 8/28/2020 |
| LA 313786 | SHERIF R HANNA | N/A | WHITTIER | 8/28/2020 |
| LS 284775 | SHERIF'S AUTO CARE INC | SHERIF'S AUTO CARE INC | WHITTIER | 8/28/2020 |
| RC 284775 | SHERIF'S AUTO CARE INC | SHERIF'S AUTO CARE INC | WHITTIER | 8/28/2020 |
| ARD 280794 | US AUTO CLINIC INC | US AUTO CLINIC, INC | STUDIO CITY | 9/2/2020 |
| ARD DENIED | GO GO SMOG AND AUTO GLASS | GUSTAVO GONZALEZ | YUBA CITY | 9/2/2020 |
| RC DENIED | GO GO SMOG AND AUTO GLASS | GUSTAVO GONZALEZ | YUBA CITY | 9/2/2020 |
| ARD 292824 | MASS APPEAL MOTORSPORTS LLC | MASS APPEAL MOTORSPORTS LLC | CARMICHAEL | 9/2/2020 |
| EI 23410 | PHILIP ALEXANDER GRAY | N/A | SAN DIEGO | 9/8/2020 |
| EO 23410 | PHILIP ALEXANDER GRAY | N/A | SAN DIEGO | 9/8/2020 |
| ARD 286836 | TD SMOG CHECK ONLY | TRINH DUONG TONNU | SAN JOSE | 9/9/2020 |
| EO 640866 | TRINH DUONG TONNU | N/A | OAKLAND | 9/9/2020 |
| TC 286836 | TD SMOG CHECK ONLY | TRINH DUONG TONNU | SAN JOSE | 9/9/2020 |
| EO DENIED | MAHUZINY MAGANA | N/A | SAN BERNARDINO | 9/9/2020 |
| ARD 85060 | RAZZARI FORD MAZDA | TIM RAZZARI MOTORS INC | MERCED | 9/9/2020 |
| RC 85060 | RAZZARI FORD MAZDA | TIM RAZZARI MOTORS INC | MERCED | 9/9/2020 |
| EO 640834 | ROBERTO AMBRIZ-PAREDES | N/A | FRESNO | 9/10/2020 |
| EI 637265 | IYAD A ALSAYEH | N/A | PERRIS | 9/14/2020 |
| EO 637265 | IYAD A ALSAYEH | N/A | PERRIS | 9/14/2020 |
| EO DENIED | NASSER M DAMANHOURY | N/A | SAN DIEGO | 9/15/2020 |
| EI DENIED | NASSER M DAMANHOURY | N/A | SAN DIEGO | 9/15/2020 |
| ARD DENIED | SD COMPLETE AUTO CARE | NASSER M DAMANHOURY | SAN DIEGO | 9/15/2020 |
| EO 636368 | GONZALO VASQUEZ | N/A | NAPA | 9/16/2020 |
| EI 144047 | PARVIZ PERRY KHOJASTEH | N/A | CONCORD | 9/17/2020 |
| EO 144047 | PARVIZ PERRY KHOJASTEH | N/A | CONCORD | 9/17/2020 |
| ARD 192815 | CONSUMER AUTO CENTER | RAMON CASTRO MENDOZA | LA PUENTE | 9/18/2020 |
| BA 151147 | RAMON CASTRO MENDOZA | N/A | LA PUENTE | 9/18/2020 |
| BS 192815 | CONSUMER AUTO CENTER | RAMON CASTRO MENDOZA | LA PUENTE | 9/18/2020 |
| LA 151147 | RAMON CASTRO MENDOZA | N/A | LA PUENTE | 9/18/2020 |
| LS 192815 | CONSUMER AUTO CENTER | RAMON CASTRO MENDOZA | LA PUENTE | 9/18/2020 |
| RC 192815 | CONSUMER AUTO CENTER | RAMON CASTRO MENDOZA | LA PUENTE | 9/18/2020 |
| BA 638563 | FERNANDO ZUNIGA | N/A | SAN DIEGO | 9/18/2020 |
| LA 638563 | FERNANDO ZUNIGA | N/A | SAN DIEGO | 9/18/2020 |
| ARD 214352 | ABEL & SONS AUTO REPAIR | ABEL RECINOS | WHITTIER | 9/18/2020 |
| BA 630282 | ABEL RECINOS | N/A | WHITTIER | 9/18/2020 |
| BS 214352 | ABEL & SONS AUTO REPAIR | ABEL RECINOS | WHITTIER | 9/18/2020 |
| LA 630282 | ABEL RECINOS | N/A | WHITTIER | 9/18/2020 |
| LS 214352 | ABEL & SONS AUTO REPAIR | ABEL RECINOS | WHITTIER | 9/18/2020 |
| ARD 292463 | STAR SMOG | MANPREET KAUR | BAKERSFIELD | 9/22/2020 |
| TC 292463 | STAR SMOG | MANPREET KAUR | BAKERSFIELD | 9/22/2020 |
| ARD 256232 | INSURANCE MASTERS AUTOBODY & REPAIR | ALBERTO CORNELIO MORALES AND ROSA LETICIA ALBERTO, PARTNERS | LYNWOOD | 9/24/2020 |
| EI 633272 | EFRAIN OSVALDO ARRIETA | N/A | BAKERSFIELD | 9/24/2020 |
| EO 633272 | EFRAIN OSVALDO ARRIETA | N/A | BAKERSFIELD | 9/24/2020 |
| EO 93246 GRANTED | JAMES WILBUR JUSTUS | N/A | SAN DIEGO | 9/25/2020 |
| EI 93246 GRANTED | JAMES WILBUR JUSTUS | N/A | SAN DIEGO | 9/25/2020 |
| ARD 261129 | PACIFIC MOTOR SERVICE | TALLYHOE AUTOMOTIVE ENTERPRISE INC | PACIFIC GROVE | 9/29/2020 |
| RC 261129 | PACIFIC MOTOR SERVICE | TALLYHOE AUTOMOTIVE ENTERPRISE INC | PACIFIC GROVE | 9/29/2020 |
| EI 146922 | JAFAR AHRAR | N/A | CONCORD | 9/29/2020 |
| EO 146922 | JAFAR AHRAR | N/A | CONCORD | 9/29/2020 |
| RC 231200 | J A AUTO SERVICE & SMOG | JAFAR AHRAR | WALNUT CREEK | 9/29/2020 |
| EI 137011 | DICH THANH DOAN | N/A | SAN JOSE | 9/29/2020 |
| EO 137011 | DICH THANH DOAN | N/A | SAN JOSE | 9/29/2020 |
| EO 636263 | AZIZ JOBRAEEL ABDELAZIZ | N/A | REDONDO BEACH | 9/29/2020 |
| TC 266113 | WEST SMOG | SOK SOON KIM | TORRANCE | 9/29/2020 |
| EI 33820 | JEFFERY LOREN WAID | N/A | SACRAMENTO | 9/30/2020 |
| EO 33820 | JEFFERY LOREN WAID | N/A | SACRAMENTO | 9/30/2020 |
| RC 262026 | SMOG QUIK | JEFFERY LOREN WAID | ROSEVILLE | 9/30/2020 |
| ARD 278426 | FRONTLINE PERFORMANCE & REPAIR | CHRISTOPHER JOHN KAY | RANCHO CORDOVA | 9/30/2020 |
| ARD 266963 | ONE STOP TEST ONLY | MARIA I SANCHEZ | RIALTO | 10/1/2020 |
| TC 266963 | ONE STOP TEST ONLY | MARIA I SANCHEZ | RIALTO | 10/1/2020 |
| EO 631381 | GUILLERMO TOVAR | N/A | FONTANA | 10/1/2020 |
| EO 639915 | JESUS BONILLA JR | N/A | CORONA | 10/1/2020 |
| ARD 249216 | POPS TEST ONLY SMOG | SALOMON JOHN ESCUDERO | BAKERSFIELD | 10/1/2020 |
| EO 151083 | SALOMON J ESCUDERO | N/A | BAKERSFIELD | 10/1/2020 |
| TC 249216 | POPS TEST ONLY SMOG | SALOMON JOHN ESCUDERO | BAKERSFIELD | 10/1/2020 |
| ARD 269766 | FLORENCE SMOG CHECK | ADAM AARON BENITEZ | LOS ANGELES | 10/2/2020 |
| EI 633147 | ADAM AARON BENITEZ | N/A | TORRANCE | 10/2/2020 |
| EO 633147 | ADAM AARON BENITEZ | N/A | TORRANCE | 10/2/2020 |
| TC 269766 | FLORENCE SMOG CHECK | ADAM AARON BENITEZ | LOS ANGELES | 10/2/2020 |
| ARD 277511 | T. N. B. TEST ONLY | SERGIO CALLES | LOS ANGELES | 10/2/2020 |
| EO 635855 | SERGIO CALLES | N/A | LOS ANGELES | 10/2/2020 |
| TC 277511 | T. N. B. TEST ONLY | SERGIO CALLES | LOS ANGELES | 10/2/2020 |
| EO 637171 | JOSE EDUARDO CALLES | N/A | LOS ANGELES | 10/2/2020 |
| EI 153673 | ALVARO J HERRADOR | N/A | LOS ANGELES | 10/2/2020 |
| EO 153673 | ALVARO J HERRADOR | N/A | LOS ANGELES | 10/2/2020 |
| LS GRANTED | SMOG USA & AUTO SERVICE | SMOG USA & AUTO SERVICE INC | SOUTH GATE | 10/8/2020 |
| BS GRANTED | SMOG USA & AUTO SERVICE | SMOG USA & AUTO SERVICE INC | SOUTH GATE | 10/8/2020 |
| EI 151228 | LONG BA LE | N/A | ALHAMBRA | 10/9/2020 |
| EO 151228 | LONG BA LE | N/A | ALHAMBRA | 10/9/2020 |
| ARD 195254 | SEPULVEDA UNION 76 | KARAMJIT SINGH SEKHON | NORTH HILLS | 10/9/2020 |
| BS 195254 | SEPULVEDA UNION 76 | KARAMJIT SINGH SEKHON | NORTH HILLS | 10/9/2020 |
| LS 195254 | SEPULVEDA UNION 76 | KARAMJIT SINGH SEKHON | NORTH HILLS | 10/9/2020 |
| RC 195254 | SEPULVEDA UNION 76 | KARAMJIT SINGH SEKHON | NORTH HILLS | 10/9/2020 |
| BA 148901 | GURMIT S SEKHON | N/A | ARLETA | 10/9/2020 |
| EI 148901 | GURMIT S SEKHON | N/A | ARLETA | 10/9/2020 |
| EO 148901 | GURMIT S SEKHON | N/A | ARLETA | 10/9/2020 |
| LA 148901 | GURMIT S SEKHON | N/A | ARLETA | 10/9/2020 |
| ARD 258890 | JOE'S SMOG BRAKE & LAMP STATION | JOEL MACHA | PITTSBURG | 10/13/2020 |
| BA 145624 | JOEL MACHA | N/A | ANTIOCH | 10/13/2020 |
| BS 258890 | JOE'S SMOG BRAKE & LAMP STATION | JOEL MACHA | PITTSBURG | 10/13/2020 |
| EI 145624 | JOEL MACHA | N/A | ANTIOCH | 10/13/2020 |
| EO 145624 | JOEL MACHA | N/A | ANTIOCH | 10/13/2020 |
| LA 145624 | JOEL MACHA | N/A | ANTIOCH | 10/13/2020 |
| LS 258890 | JOE'S SMOG BRAKE & LAMP STATION | JOEL MACHA | PITTSBURG | 10/13/2020 |
| RC 258890 | JOE'S SMOG BRAKE & LAMP STATION | JOEL MACHA | PITTSBURG | 10/13/2020 |
| ARD 285001 | 123 AUTO CARE & SMOG | EMIH LLC | SOUTH GATE | 10/14/2020 |
| BS 285001 | 123 AUTO CARE & SMOG | EMIH LLC | SOUTH GATE | 10/14/2020 |
| LS 285001 | 123 AUTO CARE & SMOG | EMIH LLC | SOUTH GATE | 10/14/2020 |
| RC 285001 | 123 AUTO CARE & SMOG | EMIH LLC | SOUTH GATE | 10/14/2020 |
| BA 143049 | JUAN HERRERA | N/A | BELL | 10/14/2020 |
| EI 143049 | JUAN HERRERA | N/A | BELL | 10/14/2020 |
| EO 143049 | JUAN HERRERA | N/A | BELL | 10/14/2020 |
| LA 143049 | JUAN HERRERA | N/A | BELL | 10/14/2020 |
| ARD 239976 | ADVANCE TECH COLLISION | ADVANCE TECH COLLISION | SANTA ROSA | 10/15/2020 |
| ARD 239977 | ADVANCE TECH COLLISION | ADVANCE TECH COLLISION | SANTA ROSA | 10/15/2020 |
| ARD 271461 | JACKSON SMOG CHECK & AUTO REPAIR | FOOCHOY SAELEE | HAYWARD | 10/20/2020 |
| BA 33380 | FOOCHOY SAELEE | N/A | RICHMOND | 10/20/2020 |
| BS 271461 | JACKSON SMOG CHECK & AUTO REPAIR | FOOCHOY SAELEE | HAYWARD | 10/20/2020 |
| EI 33380 | FOOCHOY SAELEE | N/A | RICHMOND | 10/20/2020 |
| EO 33380 | FOOCHOY SAELEE | N/A | RICHMOND | 10/20/2020 |
| LA 33380 | FOOCHOY SAELEE | N/A | RICHMOND | 10/20/2020 |
| LS 271461 | JACKSON SMOG CHECK & AUTO REPAIR | FOOCHOY SAELEE | HAYWARD | 10/20/2020 |
| RC 271461 | JACKSON SMOG CHECK & AUTO REPAIR | FOOCHOY SAELEE | HAYWARD | 10/20/2020 |
| ARD 259133 | BROOKLYN GARAGE | MARCO A MURILLO | WATSONVILLE | 10/21/2020 |
| EI 632235 | MARCO A MURILLO | N/A | WATSONVILLE | 10/21/2020 |
| EO 632235 | MARCO A MURILLO | N/A | WATSONVILLE | 10/21/2020 |
| RC 259133 | BROOKLYN GARAGE | MARCO A MURILLO | WATSONVILLE | 10/21/2020 |
| ARD 273983 | MARIO TEST ONLY | ERUBEY SANCHEZ | ONTARIO | 10/22/2020 |
| TC 273983 | MARIO TEST ONLY | ERUBEY SANCHEZ | ONTARIO | 10/22/2020 |
| EO 637020 | ESTEBAN SALTO | N/A | PHELAN | 10/22/2020 |
| ARD 263029 | A 1 EZ SMOG | IMRAN IRSHAD | REDWOOD CITY | 10/23/2020 |
| TC 263029 | A 1 EZ SMOG | IMRAN IRSHAD | REDWOOD CITY | 10/23/2020 |
| ARD 259949 | CHESTNUT AUTOMOTIVE | RIZWAN IRSHAD | REDWOOD CITY | 10/23/2020 |
| EI 632177 | RIZWAN IRSHAD | N/A | REDWOOD CITY | 10/23/2020 |
| EO 632177 | RIZWAN IRSHAD | N/A | REDWOOD CITY | 10/23/2020 |
| ARD 236790 | DAISY TIRE CORPORATION | DAISY TIRE CORPORATION | SANTA PAULA | 10/26/2020 |
| ARD 292343 | 14TH ST. TRANSMISSION & AUTO REPAIR | JOSEPH GEORGE MARTINEZ | RIVERSIDE | 10/29/2020 |
| BA DENIED | JESUS GASTELUM | N/A | IMPERIAL BEACH | 10/30/2020 |
| ARD 216032 | IN AND OUT SMOG | DUOC VAN TRAN | PLACENTIA | 10/30/2020 |
| EO 33131 | DUOC VAN TRAN | N/A | WESTMINSTER | 10/30/2020 |
| TC 216032 | IN AND OUT SMOG | DUOC VAN TRAN | PLACENTIA | 10/30/2020 |
| EO 639071 | JAVIER HUERTA CRUZ | N/A | SUN CITY | 11/3/2020 |
| ARD 273975 | A & M AUTO REPAIR | ARMANDO EMMANUEL MORALES | YUCAIPA | 11/3/2020 |
| RC 273975 | A & M AUTO REPAIR | ARMANDO EMMANUEL MORALES | YUCAIPA | 11/3/2020 |
| EO 638482 | PETER GABRIEL DIAZ | N/A | RIALTO | 11/3/2020 |
| ARD 267653 | HERMANOS TEST ONLY | MARIA I SANCHEZ | HIGHLAND | 11/5/2020 |
| TC 267653 | HERMANOS TEST ONLY | MARIA I SANCHEZ | HIGHLAND | 11/5/2020 |
| EO 635621 | OCTAVIO GONZALEZ | N/A | RIALTO | 11/5/2020 |
| EO 633439 | ELEAZAR BRYAN LOPEZ | N/A | SAN BERNARDINO | 11/5/2020 |
| ARD 247116 | E Z SMOG LUBE & TUNE | MIGUEL A MALDONADO | BAKERSFIELD | 11/9/2020 |
| BS 247116 | E Z SMOG LUBE & TUNE | MIGUEL A MALDONADO | BAKERSFIELD | 11/9/2020 |
| LS 247116 | E Z SMOG LUBE & TUNE | MIGUEL A MALDONADO | BAKERSFIELD | 11/9/2020 |
| RC 247116 | E Z SMOG LUBE & TUNE | MIGUEL A MALDONADO | BAKERSFIELD | 11/9/2020 |
| ARD 197893 | MIDAS AUTO SYSTEMS EXPERTS | A G N CORP | CYPRESS | 11/10/2020 |
| ARD 289894 | SEANS TEST ONLY | SEAN TRONGPHIRIYASIN | BELL GARDENS | 11/12/2020 |
| EO 640940 | SEAN TRONGPHIRIYASIN | N/A | CERRITOS | 11/12/2020 |
| TC 289894 | SEANS TEST ONLY | SEAN TRONGPHIRIYASIN | BELL GARDENS | 11/12/2020 |
| ARD DENIED | D H AUTO AND TIRE | DARREN ALLEN HARRIS | WEED | 11/13/2020 |
| ARD 259932 | XPRESS SMOG AND TEST ONLY | MAHMOUD A KWARA | VENTURA | 11/17/2020 |
| TC 259932 | XPRESS SMOG AND TEST ONLY | MAHMOUD A KWARA | VENTURA | 11/17/2020 |
| ARD 287093 | MOTOR SMOG TEST | MOTOR SMOG INC | TORRANCE | 11/17/2020 |
| TC 287093 | MOTOR SMOG TEST | MOTOR SMOG INC | TORRANCE | 11/17/2020 |
| ARD 228557 | IMAGE AUTO REPAIR INC | IMAGE AUTO REPAIR INC | TUJUNGA | 11/17/2020 |
| BA 142538 | HAMLET HARTOUNIAN | N/A | TUJUNGA | 11/17/2020 |
| BS 228557 | IMAGE AUTO REPAIR INC | IMAGE AUTO REPAIR INC | TUJUNGA | 11/17/2020 |
| EI 142538 | HAMLET HARTOUNIAN | N/A | TUJUNGA | 11/17/2020 |
| EO 142538 | HAMLET HARTOUNIAN | N/A | TUJUNGA | 11/17/2020 |
| LA 142538 | HAMLET HARTOUNIAN | N/A | TUJUNGA | 11/17/2020 |
| LS 228557 | IMAGE AUTO REPAIR INC | IMAGE AUTO REPAIR INC | TUJUNGA | 11/17/2020 |
| RC 228557 | IMAGE AUTO REPAIR INC | IMAGE AUTO REPAIR INC | TUJUNGA | 11/17/2020 |
| EO 637441 | JERRY LAWRENCE RATCLIFFE II | N/A | CARSON | 11/17/2020 |
| EO 636711 | OVSEP MURADYAN | N/A | WEST HOLLYWOOD | 11/17/2020 |
| ARD 286138 | A SMOG CENTER | AHMAD JAWED SULTANI | CONCORD | 11/18/2020 |
| TC 286138 | A SMOG CENTER | AHMAD JAWED SULTANI | CONCORD | 11/18/2020 |
| ARD 291427 | MEEKLAND SMOG TEST ONLY | AASHH CORPORATION, INC. | HAYWARD | 11/18/2020 |
| TC 291427 | MEEKLAND SMOG TEST ONLY | AASHH CORPORATION, INC. | HAYWARD | 11/18/2020 |
| EI 630982 | LEON SHAWN PHILLIPS | N/A | MURRIETA | 11/24/2020 |
| EO 630982 | LEON SHAWN PHILLIPS | N/A | MURRIETA | 11/24/2020 |
| EO 636339 | RICHARD SHAWN DOMINGUEZ | N/A | INDIO | 11/24/2020 |
| ARD 277441 | NAPA SMOG TEST ONLY | TAHOMA COMMUNICATIONS LLC | NAPA | 11/24/2020 |
| TC 277441 | NAPA SMOG TEST ONLY | TAHOMA COMMUNICATIONS LLC | NAPA | 11/24/2020 |
| ARD 278598 | ITS SMOG TIME LLC | ITS SMOG TIME | SAN BERNARDINO | 11/24/2020 |
| TC 278598 | ITS SMOG TIME LLC | ITS SMOG TIME | SAN BERNARDINO | 11/24/2020 |
| EO 636122 | JOHN M VASQUEZ | N/A | NAPA | 11/24/2020 |
| EO 637437 | JAMES EDWARD BALLARD | N/A | BLOOMINGTON | 11/24/2020 |
| ARD 284781 | QUI AUTO REPAIR INC | QUI AUTO REPAIR INC | OAKLAND | 11/24/2020 |
| RC 284781 | QUI AUTO REPAIR INC | QUI AUTO REPAIR INC | OAKLAND | 11/24/2020 |
| BS 284781 | QUI AUTO REPAIR INC | QUI AUTO REPAIR INC | OAKLAND | 11/24/2020 |
| LS 284781 | QUI AUTO REPAIR INC | QUI AUTO REPAIR INC | OAKLAND | 11/24/2020 |
| EO 135340 | KENNY PHUOC NGUYEN | N/A | OAKLAND | 11/24/2020 |
| EI 135340 | KENNY PHUOC NGUYEN | N/A | OAKLAND | 11/24/2020 |
| BA 135340 | KENNY PHUOC NGUYEN | N/A | OAKLAND | 11/24/2020 |
| LA 135340 | KENNY PHUOC NGUYEN | N/A | OAKLAND | 11/24/2020 |
| ARD 196260 | C & A AUTO REPAIR | MICHAEL IL SHIN | GARDENA | 11/25/2020 |
| EI 303967 | MICHAEL I SHIN | N/A | GARDENA | 11/25/2020 |
| EO 303967 | MICHAEL I SHIN | N/A | GARDENA | 11/25/2020 |
| RC 196260 | C & A AUTO REPAIR | MICHAEL IL SHIN | GARDENA | 11/25/2020 |
| ARD 254118 | SMOG BUSTERS | FULTON VALLEY SMOG INC | SACRAMENTO | 11/25/2020 |
| TC 254118 | SMOG BUSTERS | FULTON VALLEY SMOG INC | SACRAMENTO | 11/25/2020 |
| ARD 279670 | EL SMOG | SARKIS ALAJAJYAN | SAN FERNANDO | 11/25/2020 |
| BA 637248 | SARKIS ALAJAJYAN | N/A | BURBANK | 11/25/2020 |
| BS 279670 | EL SMOG | SARKIS ALAJAJYAN | SAN FERNANDO | 11/25/2020 |
| EI 630483 | PAUL RICHARD BAILEY | N/A | ORANGEVALE | 11/25/2020 |
| EO 630483 | PAUL RICHARD BAILEY | N/A | ORANGEVALE | 11/25/2020 |
| EO 641209 | SUZANNE STACEY LEWIS | N/A | SACRAMENTO | 11/25/2020 |
| ARD 281954 | BETTER PLANET SMOG | JAVIER E SALGUERO | MAYWOOD | 12/1/2020 |
| TC 281954 | BETTER PLANET SMOG | JAVIER E SALGUERO | MAYWOOD | 12/1/2020 |
| EO 639169 | ERIK HERRERA | N/A | SANTA FE SPRINGS | 12/1/2020 |
| EO 641524 | JOSE OSMIN HERRERA | N/A | PHELAN | 12/1/2020 |
| ARD 288781 | OLYMPIC SMOG CHECK | SARAY REYES | LOS ANGELES | 12/1/2020 |
| TC 288781 | OLYMPIC SMOG CHECK | SARAY REYES | LOS ANGELES | 12/1/2020 |
| EO 641384 | PABLO ACEVES | N/A | COMPTON | 12/1/2020 |
| ARD 205482 | AMERIKAR | NINOUS SARGONY | TURLOCK | 12/2/2020 |
| ARD 271552 | FIXED AND FAST REPAIRS INC | FIXED AND FAST REPAIRS INC | MODESTO | 12/2/2020 |
| ARD 280525 | 4D'S ENGINES & TRANSMISSIONS INC | 4D'S ENGINES & TRANSMISSIONS INC | LOS ANGELES | 12/2/2020 |
| ARD 185069 | UNITED MOTORS | HOSEP KYORK MOURAD | FONTANA | 12/2/2020 |
| RC 185069 | UNITED MOTORS | HOSEP KYORK MOURAD | FONTANA | 12/2/2020 |
| EO 145046 | FIRAS HATIM KARIM | N/A | FONTANA | 12/2/2020 |
| EO 147778 | MICHAEL GAMBINO | N/A | PHELAN | 12/2/2020 |
| ARD DENIED | GEORGES AUTO DETAIL & CARE | KEVORK GUZELIAN | FRESNO | 12/2/2020 |
| EO GRANTED | FERNANDO ARCE | | SAN DIEGO | 12/7/2020 |
| EI GRANTED | FERNANDO ARCE | | SAN DIEGO | 12/7/2020 |
| ARD 198695 | AGILE AUTO CARE | EXPRESS SMOGCHEK & REPAIR INC | TORRANCE | 12/8/2020 |
| BS 198695 | AGILE AUTO CARE | EXPRESS SMOGCHEK & REPAIR INC | TORRANCE | 12/8/2020 |
| LS 198695 | AGILE AUTO CARE | EXPRESS SMOGCHEK & REPAIR INC | TORRANCE | 12/8/2020 |
| RC 198695 | AGILE AUTO CARE | EXPRESS SMOGCHEK & REPAIR INC | TORRANCE | 12/8/2020 |
| BA 18322 | ISSA EID BATARSEH | N/A | TORRANCE | 12/8/2020 |
| EI 18322 | ISSA EID BATARSEH | N/A | TORRANCE | 12/8/2020 |
| EO 18322 | ISSA EID BATARSEH | N/A | TORRANCE | 12/8/2020 |
| LA 18322 | ISSA EID BATARSEH | N/A | TORRANCE | 12/8/2020 |
| ARD 291485 | ZION SMOG CHECK | ROBERTO MENDOZA LOPEZ | LOS ANGELES | 12/8/2020 |
| TC 291485 | ZION SMOG CHECK | ROBERTO MENDOZA LOPEZ | LOS ANGELES | 12/8/2020 |
| ARD 288050 | THE BODY SHOP G & A ENTERPRISE | GARIK MIKAYELYAN | VAN NUYS | 12/8/2020 |
| ARD 268948 | STAR SMOG DEPOT | MT DIABLO SMOG INC | COLMA | 12/9/2020 |
| TC 268948 | STAR SMOG DEPOT | MT DIABLO SMOG INC | COLMA | 12/9/2020 |
| EI 144225 | SAM GHASEM REZAI | N/A | REDWOOD CITY | 12/9/2020 |
| EO 144225 | SAM GHASEM REZAI | N/A | REDWOOD CITY | 12/9/2020 |
| ARD 247891 | RUBENS BODY SHOP | MARTIN ANAYA | MERCED | 12/9/2020 |
| EI 152893 | BRYAN LEONARD SCHAUB | N/A | FREMONT | 12/14/2020 |
| EO 152893 | BRYAN LEONARD SCHAUB | N/A | FREMONT | 12/14/2020 |
| ARD 277352 | JULIAN'S SMOG CHECK TEST_ONLY | MERLE A MATIAS | SOUTH GATE | 12/15/2020 |
| TC 277352 | JULIAN'S SMOG CHECK TEST_ONLY | MERLE A MATIAS | SOUTH GATE | 12/15/2020 |
| ARD 288331 | F1 STAR SMOG | KLK VENTURES, LLC | SANTA CLARA | 12/15/2020 |
| TC 288331 | F1 STAR SMOG | KLK VENTURES, LLC | SANTA CLARA | 12/15/2020 |
| EI 147547 | JULIAN MORALES | N/A | SOUTH GATE | 12/15/2020 |
| EO 147547 | JULIAN MORALES | N/A | SOUTH GATE | 12/15/2020 |
| EO 641312 | KEVIN GUSTAVO ANDRADE | N/A | LOS ANGELES | 12/15/2020 |
| ARD 270205 | ASHTON AUTO SERVICE | JEFFREY ALLAN ASHTON AND STEVEN L CABREANA, PARTNERS | DUBLIN | 12/22/2020 |
| RC 270205 | ASHTON AUTO SERVICE | JEFFREY ALLAN ASHTON AND STEVEN L CABREANA, PARTNERS | DUBLIN | 12/22/2020 |
| ARD 273440 | CCR AUTO BODY | NELSON BUCIO LOPEZ | SACRAMENTO | 12/22/2020 |
| ARD 291186 | QUEZADA SMOG CHECK | JUAN QUEZADA | LANCASTER | 12/22/2020 |
| EO 641691 | JUAN QUEZADA | N/A | LANCASTER | 12/22/2020 |
| TC 291186 | QUEZADA SMOG CHECK | JUAN QUEZADA | LANCASTER | 12/22/2020 |
| EI 635480 | MONICA MARRIE HALTOM | N/A | TRUCKEE | 12/22/2020 |
| EO 635480 | MONICA MARRIE HALTOM | N/A | NORTH HIGHLANDS | 12/22/2020 |
| ARD 289081 | RAMOS SMOG CHECK | JAIME RAMOS HERNANDEZ | PALMDALE | 12/23/2020 |
| TC 289081 | RAMOS SMOG CHECK | JAIME RAMOS HERNANDEZ | PALMDALE | 12/23/2020 |
| EO 641719 | ULISES DANIEL MORENO | N/A | PALMDALE | 12/23/2020 |
| ARD 292242 | KIZZEE TEST ONLY | QUINCY IVORYTAWILL KIZZEE | BELL GARDENS | 12/23/2020 |
| EO 641246 | QUINCY I KIZZEE | N/A | FULLERTON | 12/23/2020 |
| TC 292242 | KIZZEE TEST ONLY | QUINCY IVORYTAWILL KIZZEE | BELL GARDENS | 12/23/2020 |
| EO 640614 | NOE NAVARRO | N/A | SANTA PAULA | 12/23/2020 |
| EO 639967 | IBRAHIM ABDULLAH ENTEZAM | N/A | UNION CITY | 12/25/2020 |
| ARD 288887 | LINOS TEST ONLY | FAVIOLA CRUZ | BLOOMINGTON | 12/30/2020 |
| TC 288887 | LINOS TEST ONLY | FAVIOLA CRUZ | BLOOMINGTON | 12/30/2020 |
| EI 633721 | KHANG QUY LE | N/A | GARDEN GROVE | 12/30/2020 |
| EO 633721 | KHANG QUY LE | N/A | GARDEN GROVE | 12/30/2020 |
| EO 640686 | SALVADOR OROZCO | N/A | RIALTO | 12/30/2020 |
| ARD 252076 | ABC SPEEDEE LUBE | CESAR ORTIZ | BELL | 12/31/2020 |
| BS 252076 | ABC SPEEDEE LUBE | CESAR ORTIZ | BELL | 12/31/2020 |
| LS 252076 | ABC SPEEDEE LUBE | CESAR ORTIZ | BELL | 12/31/2020 |
| BA 33342 | FRANCISCO J BRAMBILA | N/A | WHITTIER | 12/31/2020 |
| EI 33342 | FRANCISCO J BRAMBILA | N/A | WHITTIER | 12/31/2020 |
| EO 33342 | FRANCISCO J BRAMBILA | N/A | WHITTIER | 12/31/2020 |
| LA 33342 | FRANCISCO J BRAMBILA | N/A | WHITTIER | 12/31/2020 |
| EI 634411 | CHRISTOPHER GENE MCVAY | N/A | HEMET | 12/31/2020 |
| EO 634411 | CHRISTOPHER GENE MCVAY | N/A | HEMET | 12/31/2020 |
| ARD 232315 | AYA SMOG AND AUTO REPAIR | VAROOJ & SONS INC | VAN NUYS | 12/31/2020 |
| BA 138125 | VAROOJ AGHAZARIAN | N/A | VAN NUYS | 12/31/2020 |
| BS 232315 | AYA SMOG AND AUTO REPAIR | VAROOJ & SONS INC | VAN NUYS | 12/31/2020 |
| EI 138125 | VAROOJ AGHAZARIAN | N/A | VAN NUYS | 12/31/2020 |
| EO 138125 | VAROOJ AGHAZARIAN | N/A | VAN NUYS | 12/31/2020 |
| LA 138125 | VAROOJ AGHAZARIAN | N/A | VAN NUYS | 12/31/2020 |
| LS 232315 | AYA SMOG AND AUTO REPAIR | VAROOJ & SONS INC | VAN NUYS | 12/31/2020 |
| RC 232315 | AYA SMOG AND AUTO REPAIR | VAROOJ & SONS INC | VAN NUYS | 12/31/2020 |